Saving the Wild enters the NFT marketplace
On March 3rd of this year I received an email from Kirsten Anderson, founder and curator of the Seattle based, globally renowned gallery Roq La Rue. Kirsten had decided to donate to our Saving the Wild Bee Keeping Project, a project that began in Kenya and is now expanding to Zimbabwe, with the mandate of securing wild land through jobs that work in harmony with nature. And then the profits from the sale of the honey is put into an education scholarship fund for promising young girls; future conservationists of these vanishing wild places.
Because there will be no wild animals to save if they have nowhere to live.
After receiving the email, Kirsten and I jumped on a call, and there was an instant connection; kindred spirits. We kept in touch, and then down the line she began talking to me about NFTs, and launched Phosphene with co-founder Art Min, former VP at Vulcan. This was a brilliant meeting of minds, which includes achieving negative carbon emissions through packaging and selling sustainable NFTs.
But what are NFTs?
NFTs are bits of computer code forever written into a blockchain that can uniquely identify media such as images, videos, and music. People can purchase NFTs from online marketplaces that require a crypto wallet to buy NFTs with cryptocurrency.
I was instinctively drawn to the speed of NFTs, and the power to bring real change – before it's too late.
It's not like spending months on end trying to close a deal with a major sponsor, and then waiting for the accounts department to look at your invoices. It gives unique charities like Saving the Wild the freedom to spend the funds on what really matters, but might not be popular. In our case, fighting the rhino mafia and the corruption that is right now driving South Africa's rhinos into extinction. We can have all the soldiers, and all the weapons, and all the technology in the world, but if we lose the war on corruption – we lose.
Saving the Wild has a long history of working with photographers who are a force for good, and print sales donated to us are behind some of our most groundbreaking work. When Kirsten offered Saving the Wild the opportunity to earn an income through the sale of digital photography in the NFT marketplace, I immediately thought of William Fortescue.
Will is one of the most progressive, talented young photographers carving his path in the world. Will and I communicate every day on whatsapp, sharing images and stories from whichever wild place we find ourselves. We share the same values, and are uncompromising in our ethics. Sadly, some wildlife photographers are only in it to make a quick buck, even if it means harassing the animal to get "the shot". Or even worse, they go to what is known as photography game farms where the lion, tiger, wolf or bear…the list goes on and on…are yanked out of their tiny cage and made to perform to create the perfect image in the perfect setting. The buyers are oblivious to this, paying sometimes tens of thousands of dollars for a single image, which only perpetuates these wildlife brothels.
We need transparency. We need photographers to set an example; to put the animals first. To put conservation first. And conservation lives and dies with funding. Kirsten introduced Will and I to Art, and after Art explained the nuts and bolts of the NFT marketplace, we both decided we were in, and we're all so excited about this new adventure because it gives us an opportunity to connect with a whole new community of buyers, in a meaningful way.
We will be launching our first NFT series on September 22nd. It's great timing because Kimana Tuskers, directed by me and produced by Saving the Wild, is on the US film festival circuit over Sept/Oct, including an in person event in New York on October 18th at the Wildlife Conservation Film Festival where I will be doing a Q&A after the screening. 
Kimana Tuskers, a short film of epic proportions, is narrated by two-time nominated actor Djimon Hounsou (Blood Diamond / Gladiator), with cinematography by BAFTA winner Bertie Gregory, and post production by Academy Award Winning facility Park Road Post (Lord of the Rings / The Hobbit). There are less than twenty tuskers left on earth, where ivory still sweeps the ground. This is the story of vanishing giants in a vanishing landscape. But this is also a story of hope, thanks to the world's smallest superheroes; bees!
William Fortescue to release five NFT images, five different animal species, under the title 'Sentient Beings'.
"The animals we share this finite space with have identifiable, individual personalities, and we must do all we can to preserve their natural habitat."-William Fortescue, wildlife photographer
To this end, the image of 'Craig', the famous iconic elephant bull who is the star of Kimana Tuskers, will be up for auction on Foundation.app on September 22nd, edition 1/1, with 100% of proceeds donated to Saving the Wild.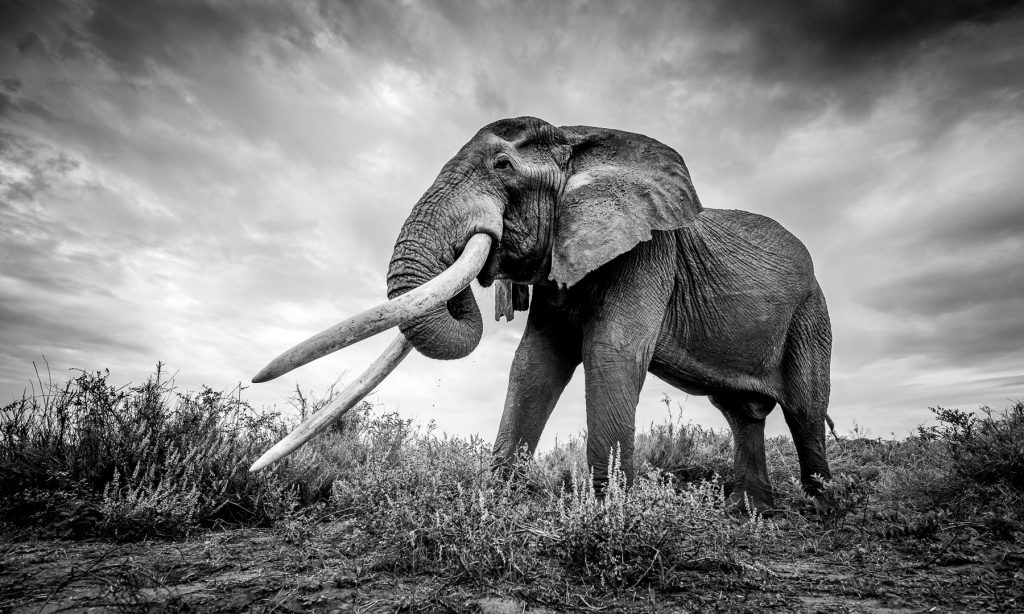 Will has an outstanding body of work, but this image personally resonates with me the most because the low angle so beautifully captures Craig's sheer power and magnificent tusks against a backdrop of dramatic clouds. Rain is life, and the scent of rain for an elephant is the promise of a new day. And the fact that Craig is even still alive at the prime age of 50 is a small miracle in a world where man's obsession to own the ivory of tuskers has annihilated his kind.
During the filming of Kimana Tuskers I spent many weeks in the company of Craig, and there are moments, and I see it in this image, where it feels like the world stands still. Craig is incredibly cool, and at times he has walked within a few feet of me, allowing me the privilege of becoming transfixed in his noble stare.
When we speak of sentient beings, I feel elephants represent the best of humanity, for their compassion, for their loyalty, and for the way they treat their families. We have a lot to learn from these gentle giants.
September 22nd is World Rhino Day, and in acknowledgment of this, there will be another auction item, an unreleased image by William Fortescue, also with a high investment edition of just 1/1.
The extraordinary rhino has walked planet earth for fifty million years, survived the ice age, and can survive almost anything besides human greed. It is mind-blowing that this iconic species is going extinct for a horn that nobody needs. Saving the Wild has spent the last seven years fighting the rhino mafia in South Africa, home to 80% of the world's population. We are the only charity whose mandate in South Africa is to pursue high level targets. We have taken down a lot of bad guys, but we need help. We need funding to raise the stakes. It's not enough to expose kingpins and a syndicate of corrupt magistrates and prosecutors known as the 'Blood Rhino Blacklist'. Crooked justice officials actually have to go to jail – and that is where the state is failing, arguably on purpose. And we cannot let that happen.
The other three images will be editions of 15 and will also be available for sale on September 22nd on various platforms. So excited to reveal these three images to our community, one of which I was standing right next to Will when he captured it just a few weeks ago, in a jungle in Uganda, on a day in June this year that I will never forget. That story next…
How will Saving the Wild spend the funds from the proceeds of 'Sentient Beings'?
-Pursue and eliminate corruption and high level targets that are driving rhinos into extinction.
-Expansion of the Saving the Wild Bee Keeping Project to secure more wild land, and protect not just elephants, but all animals in fragile eco-systems.
It's time to adapt and evolve. And thanks to the NFT marketplace, it looks like the wild is about to get a break.