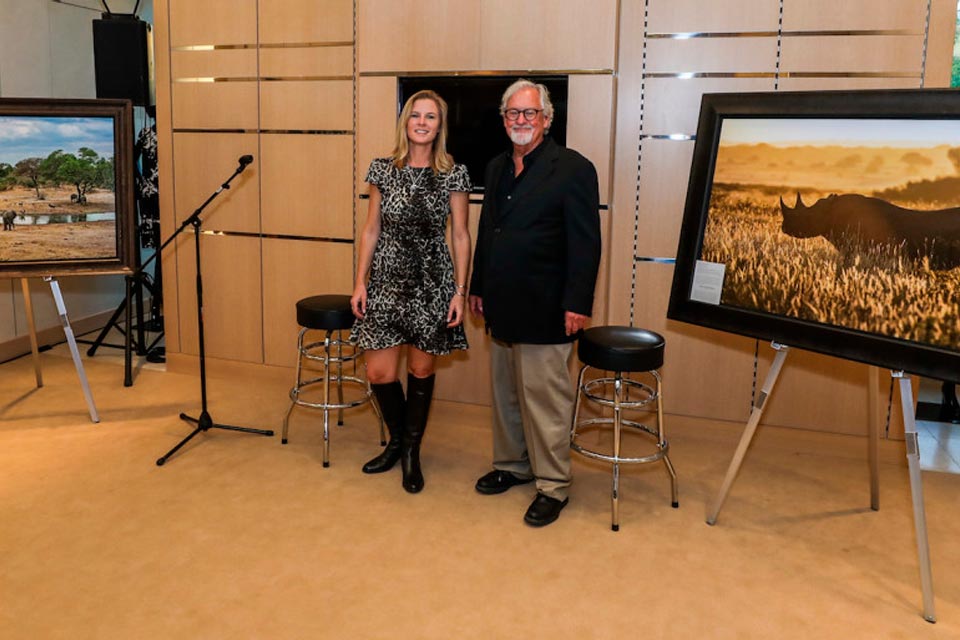 Saving the Wild: now and the future
Jamie Joseph writes…
After a few months living in a remote African wilderness with very little access to wifi, and certainly no shopping malls for hundreds of miles, it was an assault on the senses to find myself in an airport earlier this month, buzzing with noise and commerce, and the sudden pressure of raising Saving the Wild's 2020 budget weighing heavy on my shoulders.
Fortunately, a dear friend and ally in Denver pulled together her colleagues and resources and produced a remarkable event that saw a stream of donations come in, as well as the sale of rare images from the Saving the Wild Collection by long time supporter; iconic wildlife photographer Thomas D. Mangelsen.. We are now selling out of some of our images, testament to Tom's impactful art as a force for good.
This was also our first time collaborating with world renowned silversmith from Zimbabwe, Patrick Mavros. Created especially for our Saving the Wild event, Patrick's spectacular silver sculpture stands 7.5cm high and depicts Tim, the famous Kenyan tusker who turned 50 this year. Tim is one of the last great tuskers who has not been killed by poachers thanks to the dedicated efforts of our partners, Big Life Foundation.
Magnificent Tim, one of the last great tuskers, by silversmith Patrick Mavros.
Saving the Wild is dedicated to protecting the tusker gene pool. Photo credit: Jamie Joseph | Tusker Tim.
With huge appreciation to everyone who supported us in Denver, we are fortunate to share the good news that we raised a quarter of our annual budget. There is still a long way to go, but here are some insights on how the funding is being spent now and in the future as more funding comes in.
Saving the Wild's mandate is to dismantle poaching syndicates, protect the black rhino gene pool, and the elephant tusker gene pool. In line with our mandate, funds raised in Denver and in the future will be split between our projects in South Africa, Mozambique, and Kenya.
There are many great organizations out there doing their part, but I can only speak for what it is we do. In South Africa and now Mozambique, what we do that is different to other non-profits, is that we pursue high level targets and we fight organized crime.
We are small enough and bold enough, and perhaps a little bit crazy, to go after the poaching kingpins and the corrupt state officials who are causing the most damage, because the number one factor enabling wildlife poaching will always be corruption.
And it doesn't matter how many poachers are arrested, if the justice system is corrupted, poachers will be set free – no jail time – and they will go out and kill another rhino in order to pay off the debt of their bribes.
For many unforgivable years, this is what was going on in South Africa, home to 80% of the wild rhino population. That is, until we exposed what is known as the 'Blood Rhino Blacklist' – an alleged crooked cabal of justice officials in the province of KwaZulu Natal.
Running parallel to Saving the Wild's investigations is an investigation by both the Magistrates Commission and the Police. Consequently, KZN Court President Eric Nzimande was suspended by Parliament in February of this year. And magistrates I have exposed for corruption, who were appointed by Nzimande, are not being re-appointed. Power is diminishing, but the true test of justice is when they are permanently dismissed through disciplinary hearings and arrested and tried in a court of law.
In the pursuit of justice, progress in South Africa is excruciatingly slow, but for as long as Saving the Wild can monitor progress behind the scenes, we will stand down and wait for justice to prevail. And if it looks like investigations are going to be squashed, I can promise you this one thing, with all the suffering that fuels our fight, Saving the Wild will come out swinging again.
Corruption in the courtroom: A sordid tale of sex, gambling, poachers and payoffs
Read the mind blowing expose by award winning journalist Sam Sole to understand the gravity of the situation: not just the courts driving a species into extinction, but the atrocities against humanity.
Fortunately, the new National Prosecuting head, Shamila Batohi, is on board with our crusade against corruption. The NPA is now directing its focus on securing prosecutions in corruption cases with the aim of restoring investor confidence.


In Zululand, the alleged kingpin Dumisani Gwala and his defense continues to make a mockery of the court by playing the system. It was our mission to get Gwala into an uncorrupted trial, this after exposing previous magistrates for corruption, but we can't beat the system which allows for ridiculous delays due to a warped constitution. For example, the last block of trial dates was 14-18 October and it was another wasted week. It began with defense attorney Ngwenya becoming suddenly unavailable because he is "studying", and then the second half of the week didn't go ahead because defense attorney Linda claimed she had "a headache" and didn't show up. Saving the Wild continues to have eyes in the court and every excuse over the last four years has been documented and will be released at the most opportune moment.
As it stands, if the infuriated magistrate were to force Gwala to represent himself and he is convicted, he might use this as an excuse for an appeal. But him and his defense are fast running out of wriggle room, and even though the trial will drag on into 2020, Gwala is doing himself no favours with this court circus.
Judgement day is coming.
In ground zero, the alleged kingpin of Kruger, Petros Mabuza aka Mr Big, will stand trial in the High Court in June 2020, exactly two years after Saving the Wild supported the Hawks Police in this ground breaking arrest.
Our biggest regret is that we celebrated bail being denied for Mabuza, and then in a greased lighting turn of events he got bail in the High Court just days later. Not surprisingly, the transcript went missing, and we regret we were not there to document what took place in the courts – but due to lack of funding we were not able to fund a legal watching brief on that week.
While the crime boss 'kingpins' are still out on bail, rhinos will continue to be slaughtered at a terrifying rate. After the Mabuza arrest, when he was locked up and awaiting bail, during those blissful weeks rhino poaching in Kruger suddenly saw a sharp decline and reprieve.
In Africa, the most important battle to save the rhino will be won with the fall of the kingpins.
There are only a handful of crime bosses, and it takes them years to build their empires and their network of corrupt state officials. We know who they are and we have them in our sights. Earlier this year Saving the Wild expanded into Mozambique, supporting intel driven operations, and the work is paying off. It's still too earlier to reveal what's being done on the ground, but we will be able to report back on arrests and trials before the end of 2019.
There is much progress, and even if it is slow, when it all comes down its coming down like a house of cards. But here is the thing about slow progress…
In the race against extinction we also feel we have a responsibility to protect the gene pool, and that is why we expanded our mandate to protect both the black rhino gene pool and the elephant tusker gene pool.
It is a great honour to work with Dr Dave Cooper, one of the most experienced and respected wildlife vets in Africa. In support of our partners African Wildlife Vets, we continue to feed the black rhino orphans under Dave's care until they are ready to be released into a safe haven and live out their lives wild and free.

Saving the Wild continues to feed the black rhino orphans under the care of African Wildlife Vets.
And as part of the Mangelsen Black Rhino Fund, we continue to support Saving the Survivors, because when it comes to black rhinos, we are down to the last, less than 5000, and every individual counts.
And finally, proceeds from the event have been ring-fenced for wildlife investigations in Kenya and the protection of the remaining tuskers who still roam in the Amboseli ecosystem. Bravo to our partners Big Life Foundation for not losing any elephants to poaching this year! And with less than 30 super tuskers left on the planet, what we are really trying to save are modern day dinosaurs.
Ultimately none of what we do is possible without funding. And we are so very grateful to anyone who donates and shares this important journey with us.
Thank you.