Minister's response to alleged rhino poaching kingpin
By Jamie Joseph
IFP's Chief Whip in Parliament, Mr Narend Singh, delivered this written question to Edna Molewa, Minister of Environmental Affairs: With regards to the trial of the alleged rhino poaching kingpin Dumisani Gwala, why has the syndicate of the specified person never been acknowledged at any of the department's quarterly rhino poaching briefings presented by her?
Written response by Edna Molewa, the Minister of Environmental Affairs:
During these media briefings, law enforcement matters are usually covered by my colleagues from the Security Cluster, particularly as it is the mandate of the South African Police Service to investigate and disrupt syndicates. Where law enforcement aspects are included in the briefings, this information is provided by the Security Cluster and there may be various reasons why sensitive information is not included.
//END
The only sensitive issue that comes to mind is that South Africa's Minister of State Security, David Mahlobo, is currently being investigated for alleged links to rhino syndicates. What is known by the South African Police Service as 'The Gwala Syndicate' has already been extensively documented in the press, including references to police affidavits.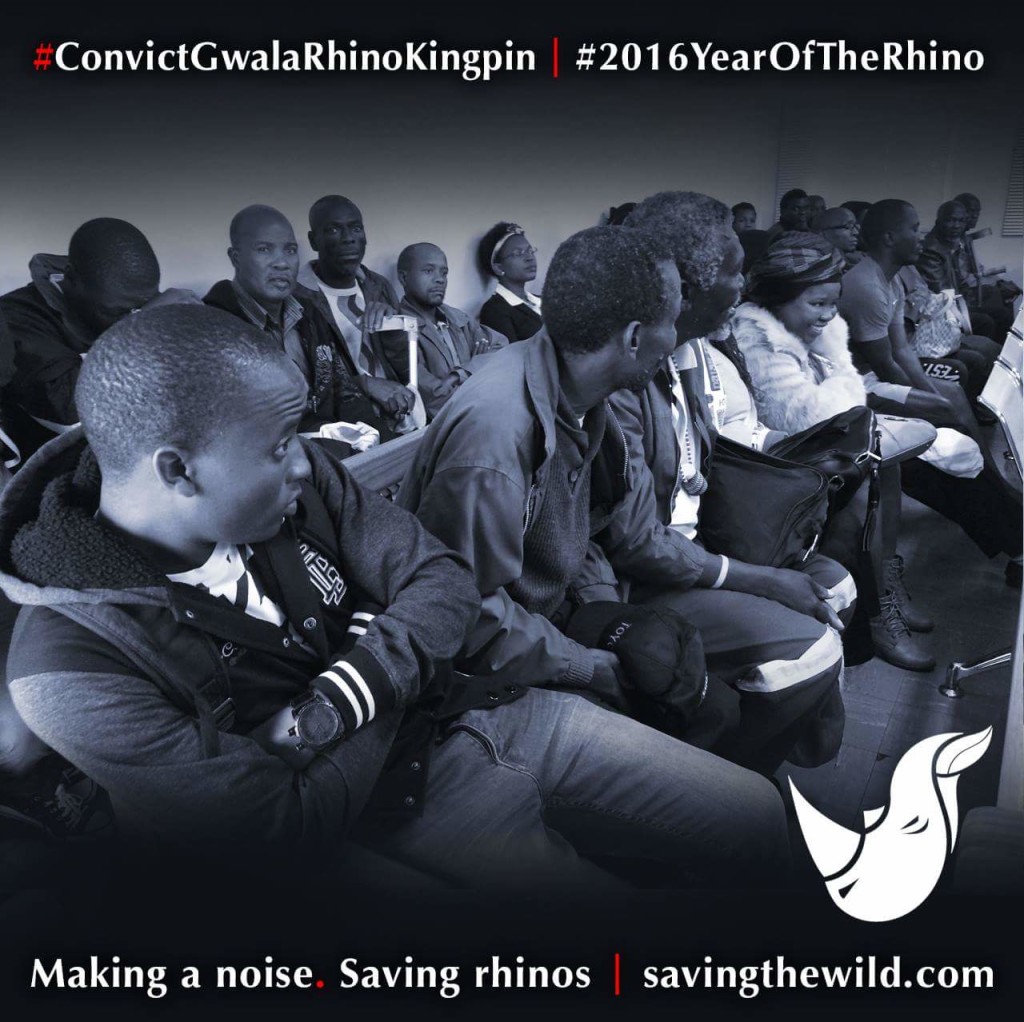 Below is a timeline of 2016 media articles leading up to Gwala's next court appearance this Friday 25 November at Ngwelezana courthouse in Zululand. Gwala is currently out on bail for attempted murder of a police officer and dealing in rhino horn.



28 January: Alleged rhino poaching kingpin, and the magistrate that keeps him out of jail
Gwala is brutal by nature, and widely known among poaching circles and law enforcement as a man that rules by the gun. There have been several cases against him before, but the cases have either been withdrawn, or the dockets have suspiciously gone missing. While Gwala claims he is unemployed, the Asset Forfeiture Unit seized six luxury vehicles from his premises worth millions; including a BMW X5 and a 3-series, a Mercedes Kompressor, a Toyota Land Cruiser and a Prada.
Magistrate Ngcobo released some of his vehicles that had just been seized. South African Police Services (SAPS) immediately obtained a court order to repossess the vehicles, but when the Asset forfeiture unit arrived at his house to collect the vehicles, he stood defiantly at the entrance with a five litre container of petrol and threatened to burn all the vehicles if the officers came any closer. The officers left and he quickly stashed all the vehicles.
Read the full story on savingthewild.com.



22 June: Is corruption in courts fuelling rhino poaching?
In January I began the process of exposing an apparently corrupt network of magistrates, lawyers and police in KwaZulu-Natal, South Africa, that has allowed accused rhino poachers and rhino horn traffickers to evade conviction and jail time despite thorough, detailed evidence being presented against them. On 10 April of this year, the revered Public Protector of South Africa, Thuli Madonsela, accepted my case and launched a preliminary investigation into corruption enabling rhino poaching.
Read the full story on Africa Geographic.



Photo credit: Jamie Joseph / Saving the Wild


11 July: State seizes poaching syndicate's assets
At their first meeting, Gwala told the undercover policeman he had buyers in Johannesburg and Mozambique. He bragged that sometimes, in one trip, he would make R13 million. He said he had five luxury vehicles bought with money from selling rhino horn.
Read the full story on IOL / The Mercury.



19 September: Zulus pack out alleged rhino poaching kingpin trial
But perhaps the most inspiring progress of all was to see today's courthouse packed with supporters from the Inkatha Freedom Party. Inkatha, and particuarly its leader, Prince Mangosuthu Buthelezi, MP – who has a long history with conservation dating back to 1975 – have been avid supporters and have made many passionate pleas to government to save South Africa's wildlife from the scourge and evils of poaching. South Africa's war on poaching will never be won by a bunch of white folk in khaki, and clearly whatever we are doing is not enough. What we need is a revolution.
Read the full story on SA People.



20 October – Justice for Rhinos—When Will It Come?
The prosecutor lamented the numerous postponements. "The delays caused by several changes of attorneys is not in the interest of justice," he argued.
The magistrate agreed. "This cannot be allowed to go on and on," he said. He reset the trial for October 21.
Read the full story on National Geographic.



30 October: Rhino poaching trial postponed…again
The Ngwelezana Regional Court on Friday heard that all evidence had now been handed over to the defence attorneys, one of whom arrived wearing an eye patch as a result of an 'accident' just days before and who are the latest in a slew of lawyers to be hired in defence of the accused. The matter has been plagued with delays as new attorneys have been hired days before the matter appears in court, only to plead leniency as they were not adequately prepared to represent their clients fairly.

Drama unfolds…
Outside the courtroom meanwhile, a group of dancers had gathered in a public display of solidarity for the fight against rhino poaching.
'They were peacefully standing waiting for court to begin when they were harassed by a man claiming to be a member of the ANC,' she said. 'By then court staff were standing in front of the peaceful group, glaring at them as if they were criminals.
Joseph and Zululand Observer journalists were also barred from taking photographs inside the court premises.
Read full story on Zululand Observer.



Rhino poaching is out of control in KwaZulu-Natal, with so far at least 140 rhinos killed this year compared to a total of 97 butchered last year. The filthy rich in China and Vietnam claim the horn as a status symbol, all the while Africa's natural heritage is hemorrhaging. Poachers that have been arrested in recent months have claimed they work for Gwala, but are too terrified to testify against him.
Minister Molewa says she cannot include the Gwala syndicate in her quarterly briefings due to 'sensitive issues'. Rhinos are plummeting towards extinction and some of the very people put in charge of protecting our iconic species are under scrutiny for links to rhino poaching. For too many years we have been scratching our heads trying to work out how it's even possible a rhino poaching kingpin has never been convicted. In this battleground of greed and corruption, honour and justice, it's about time Minister Molewa chooses what side she is on.
Follow the ongoing saga on Saving the Wild Facebook and Twitter #ConvictGwalaRhinoKingpin.
Expect another trial delay on Friday. The fight for justice continues…