Saving the Wild launches US$10 000 climate disaster fund
By Jamie Joseph
Australia is in the midst of a climate apocalypse. Firefighters are getting trauma counselling because they are haunted by the death cries of thousands of koalas and other critically endangered species burning into extinction. But who really cares?
It takes a moment to change the course of history. It was the 19thof July and I was in Mana Pools, Zimbabwe when my life was changed forever. Working alongside a small but committed group of independent conservationists, we were desperately trying to save endangered elephants and other grazers starving to death. An unprecedented drought in the wake of climate change had brought this UNESCO World Heritage Site to death's door, and we were fast running out of time and money.
An American tourist approached me while we were offloading a truck with grass and asked what we were doing. Later that day he tracked me down at our camp site and pledged a US$5000 donation to what became the 'Feed Mana' drought intervention. It took me by surprise and disarmed me as I fought off the tears and thanked the kind stranger. That money was enough to get more trucks in and keep the momentum going long enough until we were able to secure substantial funds. Hundreds of animals were saved. And that American stranger is now one of the most important people in my life as we work together to create safe havens for elephants and rhinos.
Saving the Wild is an African based charity and it is our mandate to dismantle poaching syndicates and protect the gene pool. We rely on people all over the world to financially empower us to do this. Every charity has their mandate, but what about the unexpected? What about all the animals who have perished in the California bush fires, the Amazon fires and now the Australia fires – there are many thousands of environmental charities around the world, but who is helping? I've had a look at some of the biggest, wealthiest charity pages and many of they seem oblivious to the fact that Australia is on fire!
AUSTRALIA IS ON FIRE AND HUNDREDS OF MILLIONS OF ANIMALS ARE DEAD.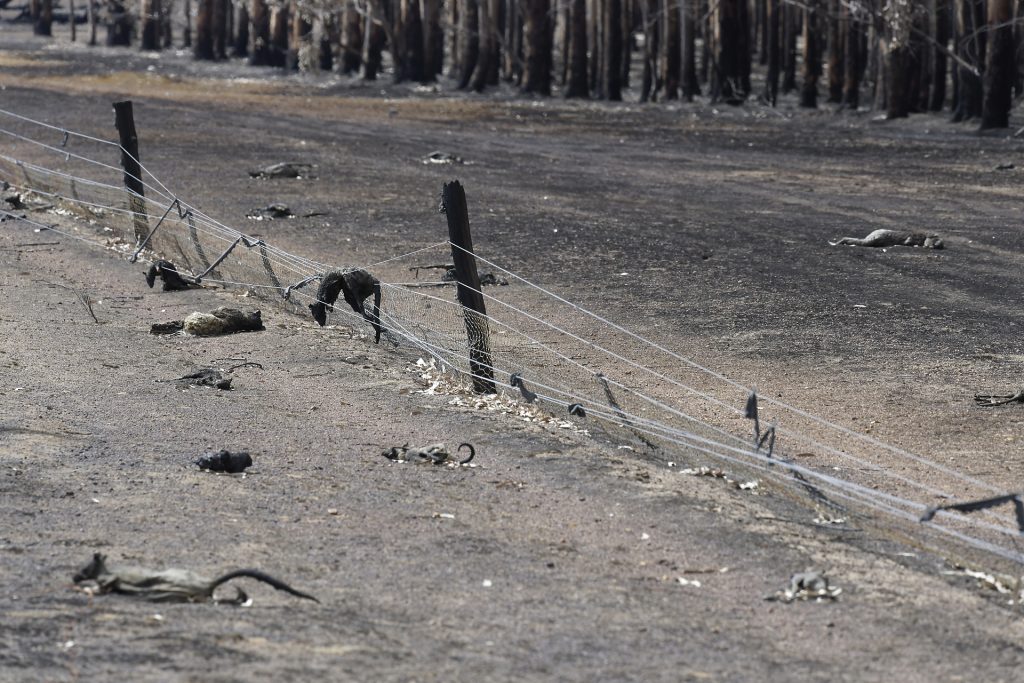 There is no end in sight. We are losing priceless biodiversity and half the world is asleep. Climate change is a global problem, and it is our duty as global citizens to unite and confront the catastrophes as they unfold. And at the same time, we need to wake up the governments who are deliberately failing to protect our natural world from unsustainable development.
Saving the Wild has reached out to our major private donors and we are launching a US$10 000 fund to support animals in crisis due to climate change – wherever they are in the world. It might not seem like a lot of money, but it is 7% of our annual budget. If we can come up with 7% of our budget, then surely the big charities with budgets that run into the millions and hundreds of millions of dollars can ringfence 1% of their budget for climate change disasters. Start adding up all those millions and together we will be able to save millions of animals in the future.
Saving the Wild is working directly with people on the frontline in Australia. We will be reporting from the field. Stay connected via Instagram.
"Australia Is Committing Climate Suicide. As record fires rage, the country's leaders seem intent on sending it to its doom."
-New York Times
"Australia's current season of fires are what happens when an incompetent government is faced with the effects of climate change."
-Forbes
Celebrities donate and call on the world for help:
"Our family's support, thoughts and prayers are with everyone affected by the fires all over Australia. We are donating $500,000 to the Rural Fire Services who are all doing and giving so much right now."
-Nicole Kidman
"Make no mistake. The tragedy unfolding in Australia is climate change based. We need to act based on science … and respect our planet for the amazing and unique place it is. That way we will have a future."
-Russel Crowe
"I am totally devastated watching what is happening in Australia right now with the horrific bushfires. I am pledging a donation of $500,000 directly to the local fire services that are battling so hard on the frontlines. My heart goes out to our friends and family in Oz."

-P!nk
"Please, if you haven't already donated, please do, and let's give future generations the kind of childhood I was so lucky to have."
-Margot Robbie