The rhino orphans of Limpopo
By Jamie Joseph
I'm not part of any NGO, I don't fundraise, and I'm not on anyone's payroll either. I'm a self funded independent writer that has been seeking solutions to Africa's poaching crisis since the start of the year, and it's been one helluva rollercoaster.
In South Africa alone there are hundreds of NGOs trying to save rhinos; that computes to a whole lot of people competing for the same public funding – and a lot of small money attempting to solve a lot of big problems. It can get nasty in the sandpit. Some of these 'fundraisers' have proven to be corrupt, whilst others simply don't exist and have used the name of an NGO to raise funds to line their own pockets.
And then there is the war. The war on poaching is a war on greed, status, corruption and power. It's a war where iconic species are being decimated, and unsung heroes die trying to protect what little wildlife we have left.
When I decided to leave New Zealand two months ago and return to my African homeland after a five year absence, it was really me returning to the call of the wild, the place that knows the sound of my heart from the inside. So many of us are fighting so hard to save what little wildlife we have left, sometimes it's important to remind ourselves exactly what it is we're fighting for.
Arriving at The Rhino Orphanage in Limpopo, once I had gotten through the many layers of security, which included multiple gates and stringent guards, and a boma of lions and Buffalo One Eyed Jack, after all of that, it was like stepping into a sanctuary for the soul.

Jamie Joseph meeting the orphans for the first time / Photo credit: Ryan Roux
I was greeted by Gaby, Hillary and Simone', care givers at The Rhino Orphanage, and I at once felt at ease in their company. These twenty something girls all have this bubbly fresh, untainted energy about them, a sort of purity that I hadn't yet come across in this 'saving the wild' industry. Five minutes later I understood why.
I dropped my bag off in the trailer that would become my abode for the next seven days and followed the girls to the nearest boma to meet the orphans. A 23 month old white rhino named Ntombi strolled across to us as I hung over the low green railing, my eyes suddenly childlike with excitement. I tickled Ntombi 's wrinkled lips and gently wrapped my fingers around her little horn. And then suddenly my heart tightened as if seized by a clamp, knowing full well what she had gone through.
In January last year the then eight week old Ntombi was slashed 21 times with machetes and axes whilst poachers slaughtered her mother and took her horn. It is believed she approached the poachers during the attack in a valiant effort to save her mum.
When you are dealing with this level of trauma you had better be in it for one reason and one reason only – love – because only love can heal the wounds beneath these mortal scars. These foster mums that look after the orphans love them like their own children, and even on their days off I see them hovering around not wanting to miss a thing.
Just like little human children, the rhino orphans are experiencing things for the first time; their first bottle feed, their first mud bath, their first best friend, and their first walks together exploring the outer boma – the final bush camp that will be their last roaming adventure before they leave the orphanage at around three years old.
And each little rhino is bursting with personality; Shaka is an attention seeker and will irritate Nyani until she plays with him. Nyani was only four days old when she arrived, and even at 13 months she still likes to cuddle with her foster mums. Pemba and Muffin are a bit older now, and are becoming more independent. Just like siblings they can get moody with each other, but they refuse to be separated.

Photo credit: Ryan Roux / savingthewild.com
And, ultimately, the care givers love is so pure that they wish for nothing more than to set the orphans free, back into the wild, where they belong.
The daily sounds of girls laughing and singing mingles with the melody of birds and the howl of jackals. I told the girls that I thought The Rhino Orphanage is a bit like a Smurf village wonderland, and so they immediately looked up the Smurf characters, and of course they all wanted to be Wild Smurf – the one that can communicate with animals.
And just as the sun starts to simmer and a golden glow sweeps across the land, we take a walk along a dusty path, passing warthog, wildebeest, vervet monkeys, and a rare roan antelope. And then at 6pm it's time to get back and give the kids their last feed of hay and supplements, and at 8pm the babies get a special bed time milk bottle formula. And then we all fall asleep to the lullaby roar of lions under a glittering haul of stars.
It's not all idyllic. The Polaris 'golf buggy' that they use to patrol the outer boma never starts without a whole lot of splutter, and some days it doesn't start at all. The girls live on food vouchers, and there is no generator backup when the storms cut out the power, but so long as the orphans continue to get the best care and medical treatment on the planet, the rest is just details.
And these fat buttocked prehistoric unicorns want for nothing. The Rhino Orphanage is a magical place filled with hope and triumph, and whilst there is no end in sight to the poaching crisis, we can still save the future generation of rhinos, one orphan at a time.

Hillary gets a birthday cuddle from Lesedi (27/10/14) / Photo credit: savingthewild.com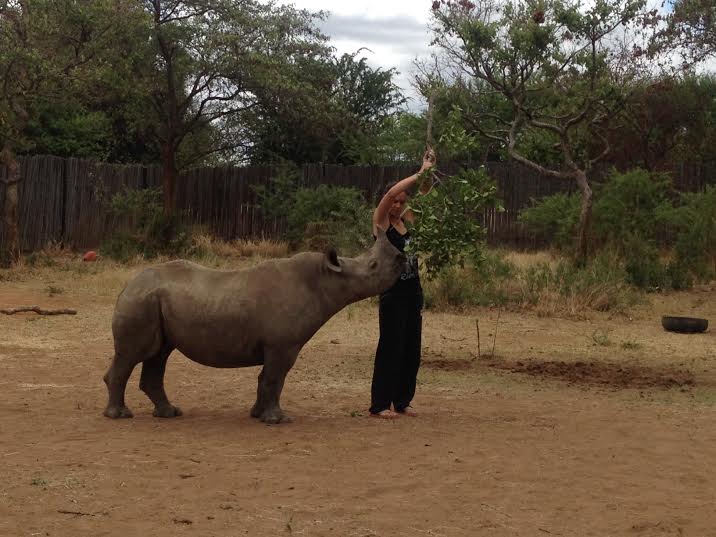 Simone' helps Shaka with his stretching. Black rhinos have lucid muscles in their neck allowing them to reach for higher branches / Photo credit: savingthewild.com

Watch video: The orphans come home for dinner after a day of exploring.


More stories from The Rhino Orphanage coming soon. Follow the 'saving the wild' adventures on Facebook and Twitter.
In related news…
The American Girl and her rhino orphans
Hillary was just a 20-year-old, sparkly blue-eyed Goldilocks when she arrived at The Rhino Orphanage in August 2012, a construction site of bricks and rubble somewhere in the province of Limpopo, South Africa. Hailing from Florida, her and her family had visited Africa two years earlier, and after inhaling the pulsating life force of a safari, she was determined to return to the bush, this time as a volunteer at a wild care center.
The girl that had grown up next to Disney had no idea what she was getting into.
Read full story on Huffington Post.


Nthombi, the rhino orphan that refused to die
Simone, one of the caregivers at The Rhino Orphanage, drove with a team to Kruger to fetch Nthombi and bring her back to the orphanage where she could be properly cared for. At the time Simone had just turned 21, a student doing her practical year of Nature Management at the nearby Entabeni Reserve, and she had never worked with rhinos before.
"I got to Kruger and looked inside this room, and I saw this tiny rhino just lying there, not moving, and she had these deep cuts all over her face and body. It was horrific, and the sight of her tore me apart. Why? Why would anyone ever do such a disgusting thing to an innocent creature?"
Read full story on Virgin Unite.